Dalam membelek nota-nota lama, aku terjumpa nota permainan semasa Tournament Grand Asian Chess Challenge V pada tahun 2000 yang lalu. Ada satu game yang aku rasa agak menarik untuk dikongsi bersama.
Tidak sia-sia aku berlatih The Smith-Morra Gambit, rupa-rupanya ada juga 'mangsa' aku pada tournament tersebut. Berikut adalah game pada pusingan ke empat menggunakan Morra Gambit.
Pada gerakan ke 14, selepas hitam menggerakkan kuda pada petak ...Ne8, ada gerakan force mate in 7. Masa tournament manalah nampak benda-benda macam ni, tapi lepas analisis barulah jumpalah. Position selepas gerakan ke 14 adalah seperti berikut: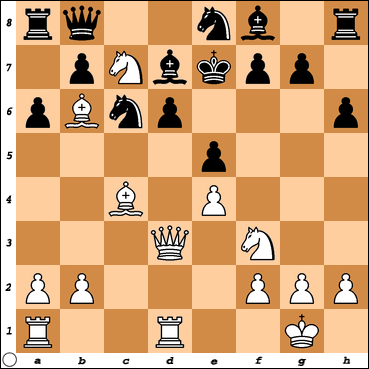 Nampak tak force mate in 7?
Jawapannya:
[15. Nd5+ Ke6 16.Nxe5 g6
(16...dxe5 17.Qh3+ Kd6 18.Nf6+ Ke7 19.Rxd7+ Kxf6 20.Qf5#; 16...Nxe5 17.Qh3+ Ng4 18.Qxg4+ Ke5 19.Bd4#)
17.Qh3+ f5 18.Qh4 fxe4
(18...g5 19.exf5+ Kxf5 20.Qg4+ Kxe5 21.Re1#)
19.Qh3+ Kxe5 20.f4+ exf3+ 21.Re1#]
Enjoy the game!